Shop for berber (loop) carpet from BDS Floors! Berber carpet's casual style and durability make it a popular carpet choice for almost any room in your home.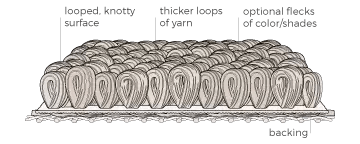 ABOUT BERBER CARPET (Loop Carpet)
Your House Needs a Casual Look BERBER DOES JUST THAT
With people enjoying more informal lifestyles, many homeowners are decorating for everyday life. Berber carpet is loved for its distinct handcrafted look. If you want to create a homey, comfortable lifestyle, Berber's knotty look creates texture and a warm, inviting atmosphere.
WHY CHOOSE Berber Carpet?
Berber can stand up to busy household foot-traffic because of its tight, thick loops that are denser than other carpet types.
Dirt and spills have a harder time penetrating Berber carpets knotty-textured surface, making it easier to clean. Many Berber carpets have speckled pattern, which helps hide stains and dirt. 
Because of Berber's informal look, it works well in nearly any room in the home, especially bedrooms, family rooms, dining rooms, and basements.

1 Year Warranty - FREE ESTIMATE
We serve in your home and for your businesses of all sizes, from corporate and healthcare facilities to small businesses and property management groups.
EXPLORE OUR WIDE SELECTION of Quality Carpet
BERBER CARPET Discover the Advantage
What is Berber Carpet?
Berber carpet is unique! It consists of many small, thick loops instead of strands like many other types of carpet. Berber has thick, heavy yarn that is built into different sizes of tufts. It's also known as loop pile carpet during construction. Another distinction with Berber carpet involves colors. Typically, a quality Berber carpet has natural or light colors with flecks of darker colors dispersed throughout. When combined with the loop pile, this type of Berber carpet has a great, casual look to it.
Quality Berber Carpet Made to Last
If you're looking for a carpet style that is highly durable and easy to clean, Berber (Loop) carpet could be the perfect fit for your home! Berber's thick loops are more difficult for stains to penetrate, and the patterns typical among Berber carpet styles can help hide stains and dirt. These features make Berber carpet an excellent choice for rooms with heavy traffic or any room that is adjacent to your outdoor space. And with the premium quality of BDS Floors carpet and flooring, you can rest easy knowing your Berber carpet will look as good as new for years to come!
Professional Berber Carpet Installation
As part of our mission to make getting beautiful new Berber carpet easy, when you work with BDS Floors Flooring, your professional carpet installers will move all necessary furniture, remove your floors, ensure the new Berber is professionally installed, clean up and move back your furniture. After the installation is complete, your install crew will walk you through your rooms to make sure you're completely satisfied. BDS Floors provides great service and support for the Berber (Loop) carpet products we offer and our award-winning customer service team will be with you every step of the way, before, during, and after installation.