ENGINEERED HARDWOOD FLOORING

Engineered hardwood flooring offers a sophisticated and inviting aesthetic to any home. This flooring, crafted from genuine wood, comes in a range of wood species, stain colors, plank widths, and finishes to suit your personal style. Engineered hardwood is a durable flooring option that can be installed in any room of the house, even on lower levels and over concrete subfloors. Despite having the same elegant appearance as solid wood flooring, engineered hardwood can be a more practical and cost-effective choice in terms of durability.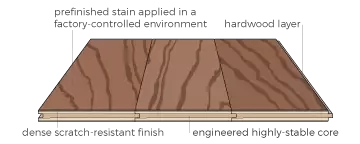 ABOUT ENGINEERED HARDWOOD FLOORING
OVER 20,000 Satisfied and Counting Customers
Great work from a great crew!
They did an amazing job. They are professional, time effective, great prices, they did great quality job and helped me with other issues in the house. I was looking for someone to install floors in a very short time. Luis was very responsive. I definitely recommend them . They truly deserve five stars
Heather Sylvia
2022-07-10
Great experience with BDS. They are efficient, courteous, and communicative. They did an excellent job replacing our carpet with engineered hardwood flooring. Super happy with our experience! Highly recommend.
Spacecowboy 320
2022-07-03
So I had some water damage on the hard wood floor just from years of use. Luis gave me a great quote and scheduled me the same week. Luis as well as the young man that did the repairs was very polite and knew what they doing. The pictures speak for themselves. Great job and I have future work that they will be doing for me
I cannot say enough good things about Luis and the services he provided. He was prompt to submit a quote, reasonably priced, the quality was over the top, and the project moved quickly. I highly recommend!
Very good price! They guided me through the process while installing my Vinyl plank flooring. They were on time everyday and very professional. I love my flooring and I highly recommend them!
I highly recommend BDS Floors and give them an A+! They are very friendly, professional and extremely knowledgeable when it comes to any kind of flooring. They were very efficient in getting the job done and take great pride in doing high quality work. So glad I got BDS to take care of my floors!!!!
Maria Luisa MR
2021-12-28
Bruno and his Team are professional and provides you with a high quality job - I will not make business with anyone except them ! Highly recommended - the wood floor and wood stairs in my house look awesome ! - thank you so much ! 💯💯💯
Gerrit de Boer
2021-07-24
Luis and Bruno did an incredible job with our tile floors. They went through the most critical details to get everything to be perfect. Most companies would come in and try to finish the job in a day or two but they took their time to make sure everything was perfect. The floors look great and we are completely satisfied with the work and details that they put into their job. I highly recommend using them!
They came in, took out the old floor. Cleaned it all up and put in the new floor in a few hours. They are very nice, respectable and I would reccomend them highly.
WHY CHOOSE Engineered Hardwood Flooring?

1 Year Warranty - FREE ESTIMATE
We serve in your home and for your businesses of all sizes, from corporate and healthcare facilities to small businesses and property management groups.
Wood flooring is renowned for its timeless beauty, durability, and value, making it a highly desired flooring choice among homeowners. With a range of stain colors, wood species, and plank widths to choose from, real wood flooring offers endless options to enhance the look of your hom
Engineered hardwood is known for its long-lasting finish, which is achieved through a pre-finished, factory-applied durable coating. This results in a thicker, more robust surface that can withstand heavy use. Additionally, engineered hardwood is versatile enough to be installed in areas where solid hardwood cannot, such as basements, concrete subfloors, and even over radiant heating systems.
Easy to Clean and Maintain
Engineered hardwood is low-maintenance and easy to clean, with just sweeping and light mopping being sufficient in removing dirt, dust, and pet hair. This makes it a great option for homes with high foot traffic and busy lifestyles.
Solid Wood vs. Engineered Wood Comparison Guide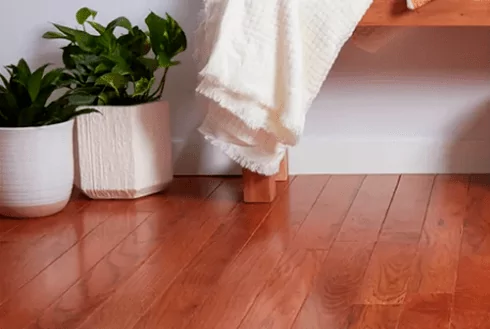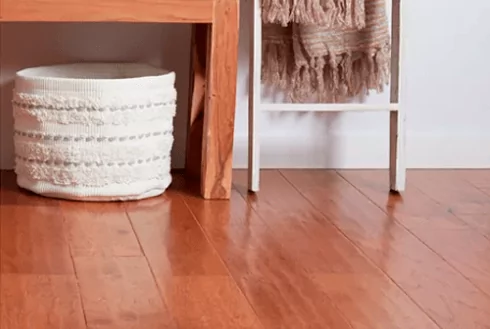 Solid wood flooring is made entirely of solid wood, typically a hardwood species like oak, maple, or walnut. This type of flooring has the ability to be sanded down and refinished several times during its lifespan.
Engineered wood flooring resembles solid wood in appearance, but it consists of a thin layer of hardwood bonded to a base of high-quality plywood. It is a more affordable option compared to solid hardwood, though it may be refinished only once. The decision between the two types of wood flooring ultimately depends on your personal preference for the benefits each offers.
Solid Wood Flooring vs. Engineered Wood Flooring
Solid hardwood flooring is made of single planks of hardwood, usually oak, maple, or walnut, that interlock with each other to form a stable surface. This type of flooring is known for its durability and longevity, as it can be sanded down and refinished multiple times. However, installation of solid wood flooring requires a certain level of skill and is typically done by nailing the planks to the subfloor.
On the other hand, engineered wood flooring provides a similar look to solid hardwood, but it is constructed with a thin layer of hardwood that is bonded to a high-quality plywood base. Engineered wood flooring is less expensive and easier for DIY installation, and is also known for its stability and durability, with a lifespan of 25-30 years.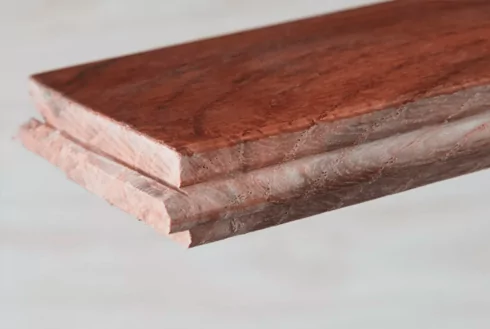 Engineered Hardwood Flooring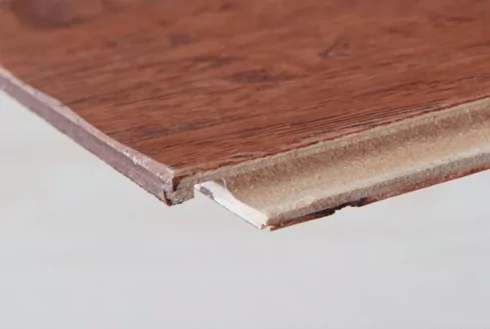 Solid hardwood flooring is a type of flooring that is made entirely of solid wood, typically a hardwood species such as oak, maple, or walnut. It is cut into planks, which are usually narrow in width, and feature tight seams between the boards. This flooring type is prized for its timeless beauty, durability, and value, and is available in a variety of stain colors, wood species, and plank widths. Unlike engineered hardwood flooring, solid hardwood flooring can be sanded and refinished several times over its lifespan, which can help maintain its appearance for many years. It is also available in both pre-finished and unfinished boards.
Engineered hardwood flooring is a type of flooring material that is made from real wood, but has a multi-layer construction. The top layer is a thin slice of solid hardwood, which gives the floor its natural look and feel, while the lower layers are made of a substrate of engineered wood, such as high-quality plywood, that provides stability and support. Engineered hardwood flooring is more dimensionally stable than solid hardwood, which makes it suitable for use over concrete slabs or radiant heating systems, and it is also easier to install. It can be sanded and refinished a limited number of times, and it is typically less expensive than solid hardwood flooring.
A Real Wood Floor Built for
HIGH PERFORMANCE AND LASTING DURABILITY
Engineered hardwood flooring is a type of flooring that is made from real wood and provides the high-end appearance of natural timber, with added benefits over solid hardwood. These floors are designed with stability and durability in mind, featuring a core structure that is bonded together, making them resistant to temperature and humidity changes and less prone to gaps, buckling, or warping. Additionally, they can be installed on concrete slabs and even in below-grade spaces, making them a versatile option for many homes.
EXPLORE OUR WIDE SELECTION of Quality Carpet
ENGINEERED HARDWOOD FLOORING Discover the Advantage
What is Engineered Hardwood?
Engineered hardwood flooring is a type of flooring made from real wood, giving it a natural, premium look similar to solid hardwood. It offers several benefits compared to solid hardwood, such as improved dimensional stability and better resistance to daily wear and tear. The core of the flooring is composed of multiple layers firmly bonded together, making it less prone to gaps, buckling, or changes in response to temperature or humidity. Additionally, it can be installed over concrete slabs and in below-grade spaces.

Engineered Hardwood Flooring That Looks Great
Engineered hardwood from BDS Floors is an excellent choice for adding a touch of elegance and durability to your home. With its rich wood appearance, it enhances the interior design of any room or area. Engineered hardwood is also low-maintenance and can withstand spills, stains, and daily wear and tear. Making the right choice for your flooring is important, and the professionals at BDS Floors are here to help you find the perfect option that will both enhance your home and stand up to everyday use. When you choose from our high-quality engineered hardwood options, one of our flooring experts will work with you to schedule a convenient installation appointment.

Easy Process, Installation, and High-End Customer Service
At BDS Floors, we have been delivering expert installation of premium engineered hardwood flooring for homes for over 20 years. Our goal is to make the process of purchasing engineered hardwood flooring seamless. A knowledgeable flooring professional will come to your home, at a time that works for you, and bring samples of engineered hardwood for you to preview in the comfort of your own home, with the lighting that is unique to your space. Our flooring expert will accurately measure all of the rooms and areas where the flooring will be installed and, upon installation, our professional team will take care of moving your furniture, removing your old flooring, and installing your new and durable engineered hardwood flooring.