made from 100% real hardwood, usually a species such as oak, maple, or walnut, and is milled into long planks with tongues and grooves on the edges to interlock when installed. The process of nailing the flooring to the subfloor requires skill, but the result is a durable and timeless floor that can be sanded down and refinished multiple times over its lifespan, giving it the added bonus of being able to adapt to changing design trends. Solid hardwood flooring is a classic and attractive choice that adds value to your home and is a smart investment for the long run. constructed with 100% hardwood and each plank is a single solid piece of wood, so if you want to change the color of the floor, it can be refinished rather than replaced.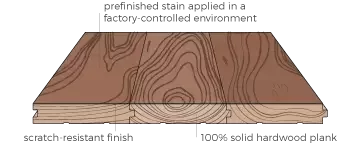 ABOUT SOLID HARDWOOD FLOORING
OVER 20,000 Satisfied and Counting Customers
Great work from a great crew!
They did an amazing job. They are professional, time effective, great prices, they did great quality job and helped me with other issues in the house. I was looking for someone to install floors in a very short time. Luis was very responsive. I definitely recommend them . They truly deserve five stars
Heather Sylvia
2022-07-10
Great experience with BDS. They are efficient, courteous, and communicative. They did an excellent job replacing our carpet with engineered hardwood flooring. Super happy with our experience! Highly recommend.
Spacecowboy 320
2022-07-03
So I had some water damage on the hard wood floor just from years of use. Luis gave me a great quote and scheduled me the same week. Luis as well as the young man that did the repairs was very polite and knew what they doing. The pictures speak for themselves. Great job and I have future work that they will be doing for me
I cannot say enough good things about Luis and the services he provided. He was prompt to submit a quote, reasonably priced, the quality was over the top, and the project moved quickly. I highly recommend!
Very good price! They guided me through the process while installing my Vinyl plank flooring. They were on time everyday and very professional. I love my flooring and I highly recommend them!
I highly recommend BDS Floors and give them an A+! They are very friendly, professional and extremely knowledgeable when it comes to any kind of flooring. They were very efficient in getting the job done and take great pride in doing high quality work. So glad I got BDS to take care of my floors!!!!
Maria Luisa MR
2021-12-28
Bruno and his Team are professional and provides you with a high quality job - I will not make business with anyone except them ! Highly recommended - the wood floor and wood stairs in my house look awesome ! - thank you so much ! 💯💯💯
Gerrit de Boer
2021-07-24
Luis and Bruno did an incredible job with our tile floors. They went through the most critical details to get everything to be perfect. Most companies would come in and try to finish the job in a day or two but they took their time to make sure everything was perfect. The floors look great and we are completely satisfied with the work and details that they put into their job. I highly recommend using them!
They came in, took out the old floor. Cleaned it all up and put in the new floor in a few hours. They are very nice, respectable and I would reccomend them highly.

1 Year Warranty - FREE ESTIMATE
We serve in your home and for your businesses of all sizes, from corporate and healthcare facilities to small businesses and property management groups.
WHY CHOOSE Solid Hardwood Flooring?
Not only does solid hardwood flooring offer a timeless, sophisticated appearance, but it can also increase the value of your home, making it a wise investment. Unlike other flooring types, solid hardwood can be sanded and refinished multiple times over its lifetime, giving it a long lifespan. Whether you're looking for a traditional or modern look, solid hardwood flooring offers the perfect choice for any home.
Solid hardwood flooring is a highly desired feature in a home, often fetching higher prices for those that have it. Home buyers often list it as a top priority, and for good reason. Not only does it add an attractive touch to a space, but it is also built to last and remain visually pleasing for many years to come.
Solid hardwood floors are relatively low maintenance and can maintain their exceptional appearance for many years with just occasional sweeping and light mopping. Unlike carpets, which can trap pet hair, dander, and dust, these items can be easily removed from solid hardwood flooring with simple cleaning. This makes solid hardwood floors a convenient option for pet owners and those with allergies.
Flooring Trends Come and Go
SOLID HARDWOOD NEVER GOES OUT OF STYLE
The popularity of hardwood flooring in homes has been enduring for centuries. These floors have a long history of use and are considered a symbol of luxury and high-end style. People are drawn to the natural beauty, warmth, and rich tones of hardwood flooring, as well as the peace of mind that comes with its long-lasting durability. Whether it's the stunning appearance or the long-term investment, solid hardwood flooring continues to be a beloved choice for homeowners who value both aesthetics and longevity.
EXPLORE OUR WIDE SELECTION of Quality Carpet
SOLID HARDWOOD FLOORING Discover the Advantage
What is Solid Hardwood?
Solid hardwood is a type of flooring made entirely from hardwood material. Each plank of solid hardwood flooring is a single piece of solid wood, making it a durable and long-lasting option. The pre-finished solid hardwood flooring offered by BDS Floors comes with a protective finish that is tough and low-maintenance, protecting the floor from stains and scratches. With a variety of styles available, from classic narrow planks to modern wide planks in both traditional natural stains and trendy gray and dark colors, BDS Floors can help you find the perfect style to match your home's decor. During an in-home consultation with a flooring expert, you can choose a style that complements your existing floors, trim, or cabinetry, or opt for a contrasting style that adds depth and dimension to any room. Regardless of your personal style, BDS Floors can help you find the perfect solid hardwood flooring for your home.
Solid Hardwood Flooring Constructed to Last
BDS Floors offers solid hardwood flooring that is designed for longevity and durability. Whether you are looking to add a timeless look and warm feel to a room in your home, this type of flooring is a great choice. It can withstand everyday spills, stains, and wear and tear, and provides a sophisticated look that fits any style or interior design. Making the right choice for solid hardwood flooring is an important decision, and a flooring professional from BDS Floors can help you find the perfect option that will set the tone for your room and last for years to come. If you choose one of their quality solid hardwood flooring products, the installation will be scheduled at a time that is convenient for you.
Easy Process, Installation, and High-End Customer Service
For the last 20 years, BDS Floors has been providing professional installation of high-quality solid hardwood flooring to its customers. The company is committed to making the process of purchasing solid hardwood flooring as simple and easy as possible. A flooring professional from BDS Floors will visit you in the comfort of your own home and bring solid hardwood flooring samples for you to view. This allows you to see how the different options look in your home's lighting, ensuring that you make the right choice. The flooring professional will also measure the rooms and areas in your home that will require installation. The professional installation team will handle all aspects of the installation, including moving any furniture, removing old flooring, and installing the new solid hardwood flooring.