Frieze carpet is distinguished by its tightly twisted fibers that create a "shaggy", informal, and casual look. Its busier, twisted surface appearance helps conceal foot prints and vacuum lines. Frieze carpets' twisted fibers are also highly durable, helping resist crushing and matting, making it a top choice for the busiest rooms in your home.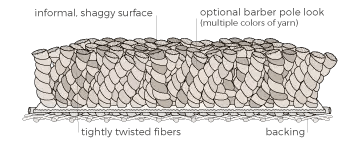 ABOUT FRIEZE CARPET (Tightly Twisted Carpet)

1 Year Warranty - FREE ESTIMATE
We serve in your home and for your businesses of all sizes, from corporate and healthcare facilities to small businesses and property management groups.
WHY CHOOSE FRIEZE CARPET?
Frieze carpets' lush feel and unique look is perfect for family rooms and bedrooms. Popular in contemporary and casual homes, Frieze carpet adds dimension and texture to your home's décor.
Helps Hide Footprints and Vacuum Marks
Frieze's crimped fibers typically bounce back when walked on, and vacuum lines fade because the carpet has an uneven texture that naturally falls back and forth onto itself.
The surface texture is good at concealing dirt, even more so if you choose a barber pole or speckled colors. The long, loosely placed twists of fiber naturally flop over in a random pattern helping to conceal dirt.
EXPLORE OUR WIDE SELECTION of Quality Carpet
FRIEZE CARPET Discover the Advantage
What is Frieze Carpet? Frieze carpet is a type of carpet that consists of tightly twisted, long fiber strands, giving it a "shaggy" look. Many people compare today's modern frieze carpet to the look of shag carpet from the 1970s, however frieze is different than the shag carpet of the past because the fiber strands used in frieze are thinner, giving it a look that isn't as dense as shag carpet. Very Durable and Looks Clean Due to the length of the strands and fibers, crumbs and other things that make most other types of carpet look dirty are harder to see through the dense, floppy appearance of frieze. BDS Floors Makes Getting Beautiful New Frieze Carpet Easy BDS Floors has installed quality frieze carpet for customers with different home decors and styles. For more than 20 years, our mission has been to make the carpet buying process easy. A flooring professional will visit you at your home, at your convenience, and bring frieze carpet samples. This allows you to look at your new frieze carpet choices in your own home, under your unique lighting. The flooring professional will measure all rooms and areas it will be installed, and you can schedule installation at your convenience. A professional installation team will move any furniture, get rid of any old carpeting or flooring, and replace it with your new frieze carpeting.