(Weather Resistant Carpet)

Transform your outdoor space with indoor/outdoor carpet from BDS Floors. Easy to maintain, durable, and stylish, indoor/outdoor carpet is long-lasting and strong enough to withstand the outdoor elements.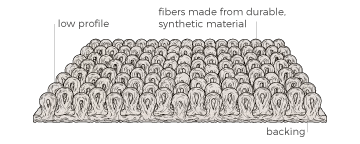 ABOUT INDOOR/OUTDOOR CARPET (Weather Resistant Carpet)
Live Life Outdoors ADD BEAUTY & DURABILITY TO ANY OUTDOOR SPACE
Attractive enough for the indoors, but durable enough to withstand all seasons, indoor/outdoor carpet is one of the easiest ways to update any outdoor living space. Designed to complement porches, patios, or sunrooms, indoor/outdoor carpet helps resist fading from ultraviolet rays and the growth of mold and mildew.
WHY CHOOSE Indoor/Outdoor Carpet?
Built to Withstand the Elements
Made to endure harsh weather, indoor/outdoor carpets' durable fibers are constructed with synthetic material that helps resist mold, mildew, fraying, and fading from sunlight.
Easy to Clean and Maintain
Spills and soil often roll off the carpet, making clean up a breeze. Periodically, indoor/outdoor carpet can even be hosed down and then dried to clean any remaining dirt and stains.
Sturdy construction elevates the look of any outdoor space and helps keep the carpet looking new. Indoor/outdoor carpet is strong, helping to protect against fraying, pilling, fuzzing, and shedding.

1 Year Warranty - FREE ESTIMATE
We serve in your home and for your businesses of all sizes, from corporate and healthcare facilities to small businesses and property management groups.
EXPLORE OUR WIDE SELECTION of Quality Carpet
INDOOR/OUTDOOR CARPET Discover the Advantage
What is Indoor/Outdoor Carpet?
Indoor/outdoor carpet is designed for interior rooms or covered exterior spaces and is ideal in settings with fluctuating temperatures. Made with synthetic fibers, this carpet choice is able to withstand the elements by resisting damage from UV rays, moisture, mold, and mildew. It's strong and durable, making it easy to clean and maintain, and won't fray, pill, fuzz, or shed.
Quality Carpet Constructed to Last
Indoor/outdoor carpet is a great choice for a patio, porch, sunroom or any other outdoor living space. Choosing the right carpet is an important decision, and BDS Floors will help you choose the perfect option that will not only look great but will last and allow you to enjoy your outdoor living area. Whether you need new carpet installation or a full carpet replacement, a flooring professional can schedule your installation around your schedule!
Easy Process, Installation, and High-End Customer Service
BDS Floors has installed quality indoor outdoor carpet for many different outdoor areas. For more than six decades, our goal has been to make the carpet buying process easy. A flooring professional will visit you at your home, when you have time, and bring all of our indoor/outdoor carpet samples. This allows you to look at your new carpet choices in the actual space it will be installed. The flooring professional will measure all of the areas for installation can schedule your installation during the same appointment. The professional installation team will move your furniture, remove the old flooring, replace it with the new carpet.