Pattern carpet helps create a sophisticated, designer look with its rich texture and high/low cut and looped fibers. One of the trendiest carpet styles today, the distinct look offers the visual interest of a patterned look while keeping the subtleness of a uniform color. Most popular styles include geometric patterns, pin dot, and lines.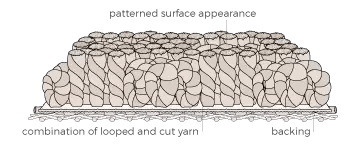 ABOUT PATTERN CARPET (Cut & Loop Carpet)
Pattern Carpet is the Total Package BEAUTIFUL, EASY-TO-CLEAN, DURABLE
You don't need a big budget to create a home that looks like it's straight out of a luxury magazine. Interior designers and everyday homeowners, alike, choose pattern carpet due to its unique style and long-lasting durability. A combination of low-cut fibers and tightly wound loops adds an element of design to this carpet. Pattern carpet remains on-trend as a whole home look. And to top it off, it is easy to clean, durable enough for high traffic areas and is less likely to show footprints.
WHY CHOOSE Pattern Carpet?
Texture is the thing that makes a room pop, and pattern carpet has just that. Elevate your home's style and bring tons of depth to your room.
The natural density of pattern carpet helps keep spills and dirt on the surface for longer making for easier cleanup. Plus, stain and soil treatment can further add to the carpet's overall protection.
Hides Footprints and Vacuum Marks
The combination of low-cut fibers and tightly twisted loops found in pattern carpet tend to keep their shape, helping resist changes to their appearance due to foot traffic or vacuuming.

1 Year Warranty - FREE ESTIMATE
We serve in your home and for your businesses of all sizes, from corporate and healthcare facilities to small businesses and property management groups.
EXPLORE OUR WIDE SELECTION of Quality Carpet
PATTERN CARPET Discover the Advantage
What is Patterned Carpet?
Patterned or pattern carpet is tufted with a high and low loop and left uncut or it may include a distinctive patterned loop that occurs when some of the loops are cut during the manufacturing process. This helps create distinctive patterns within the carpet such as geometric shapes, dots, or lines.
Quality Carpet Constructed to Last
Patterned carpet is a great choice for any room in need of carpet that can survive all kinds of spills, stains, and wear and tear. It can also provide a distinctive, bold look to fit any style or design. Choosing the right carpet is an important decision for your home's interior design, especially with patterned carpet. BDS Floors can help you choose the perfect option to help set the tone of your rooms. If you need new carpet installation or a full carpet replacement quickly, a flooring professional will schedule your installation during your FREE In-Home Estimate!
Easy Process, Installation, and Great Customer Service
BDS Floors has installed quality patterned carpet for many different interior designs and styles. For more than six decades, our mission has been to make the carpet buying process easy. A flooring professional will visit you at your home, around your schedule, and bring all of our patterned carpet samples. This allows you to look at your new pattern carpet choices in your own home under your unique lighting. A flooring professional will measure all of the rooms and areas for installation, and the carpet can be installed arond your schedule! . The professional installation team will move furniture, get rid of your old carpeting or flooring, and replace it with your new patterned carpet, clean up, and move your furniture back.