Plush carpet is the most classic carpet type due to its timeless look. We offer a variety of textured plush carpet options, explore our styles today!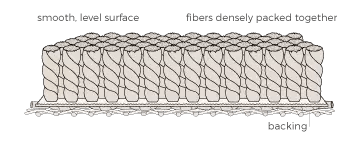 ABOUT PLUSH CARPET (Texture Carpet)

1 Year Warranty - FREE ESTIMATE
We serve in your home and for your businesses of all sizes, from corporate and healthcare facilities to small businesses and property management groups.
Plush carpet creates a uniform, velvet-like surface that is a great neutral component to any room in the home.
Durable and Easy to Clean
The dense nature of the tightly twisted fibers help makes plush carpeting easier to clean. Some plush carpet styles are available with enhanced stain and soil protection for even greater durability.
Densely packed cut-pile carpet fibers create a lush, cushion-like surface to walk or lounge on. The tightly twisted fibers stand upright and are evenly cut at the top creating a surface that feels soft to the touch.
EXPLORE OUR WIDE SELECTION of Quality Carpet
PLUSH CARPET Discover the Advantage
What is Plush Carpet?
Plush carpet piles are cut to a uniform height, producing a smooth and sleek look. Closely tufted strands provide a soft feel and velvety appearance and elegant look. Textured plush carpeting is also durable and aesthetically pleasing, with a smooth richness that works well in both traditional and formal areas.
Quality Carpet Constructed to Last
Plush carpet is a great choice for any room that doesn't have as much foot traffic as other areas within the home. It provides a distinctive, warm look to fit any style or design. Choosing the right carpet is an important decision for your homes' interior design and BDS Floors can help you choose the perfect plush carpet option that will complete any room. Whether you need new carpet installation or a full carpet replacement, our experienced professionals will schedule your installation around your schedule!
Hassle-Free Process, Installation, and Customer Service
BDS Floors has installed quality plush carpet for many different interior designs and styles. For more than six decades, our mission has been to make the carpet buying process easy. A flooring professional will visit you at your home, at your convenience, and bring plush carpet samples. This allows you to look at your new plush carpet options in your own home, with your unique décor. The flooring professional will measure the rooms and areas for installation and can schedule your installation during the same appointment. The professional installation team will move your furniture, get rid of your old carpeting, replace it with your new plush carpet, clean up, and move everything back.