COMMERCIAL VINYL TILE FLOORING

Vinyl plank flooring commonly known as luxury vinyl plank, is 100% waterproof and durable enough to last in even the busiest of households. Vinyl plank is a cost-effective way to add the realistic look and feel of hardwood to any room at a fraction of the price.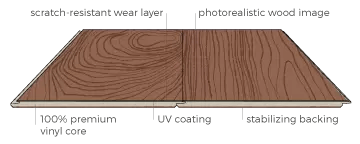 ABOUT VINYL PLANK FLOORING (Luxury Vinyl Plank)
WHY CHOOSE Vinyl Plank Flooring?
Scratch-resistant, dent-resistant, scuff-resistant, and stain resistant – this is ideal for homes with kids, pets, and higher traffic.
Since it's vinyl from top to bottom, it doesn't allow liquid to seep through and won't be affected by ordinary moisture.
Easy to Clean and Maintain
It helps keeps spills on the surface making cleanup tremendously easy. Just the occasional sweeping and mopping is necessary to maintain.
Vinyl Plank Flooring Has It All
AFFORDABILITY, DURABILITY & GOOD LOOKS
Vinyl plank flooring is one of the most popular choices for busy households, and with good reason. You can get a wood look without breaking the bank, saving thousands without having to sacrifice style. Vinyl planks floors don't scratch easily, which means your floors will survive pet nails, kid play, shoe traffic, and moving kitchen chairs. And, it looks and feels so much like real wood, even seasoned pros have a hard time telling the difference.

1 Year Warranty - FREE ESTIMATE
We serve in your home and for your businesses of all sizes, from corporate and healthcare facilities to small businesses and property management groups.
EXPLORE OUR WIDE SELECTION of Quality Carpet
VINYL PLANK FLOORING Discover the Advantage
What is Luxury Vinyl Plank Flooring?
Luxury vinyl plank flooring or vinyl plank flooring looks just like the color and species of a real hardwood plank and mimics the feel of the natural wood grain. The plank consists of four layers: the wear/texture layer, the printed photographic layer, the vinyl layer, and the core backing and locking system. Textures on the finish follow the grain in the photograph of the wood, providing a realistic feel to the plank.
Vinyl Plank Flooring in Many Colors and Styles
The luxury vinyl plank flooring options BDS Floors carries are a great choice if you're looking for a unique design or color with your hardwood-like flooring choice. Along with its beauty, luxury vinyl plank is easy to clean, able to handle all kinds of spills, stain, fading, and other daily wear and tear. Choosing the right luxury vinyl plank flooring is an important decision and BDS Floors will help you choose the floor that will not only set the tone for the room, but last for decades. When you choose one of the quality luxury vinyl plank flooring options we offer, your flooring professional can schedule your installation – even as soon as the Next Day!
Easy Process, Installation, and High-End Customer Service
BDS Floors has provided professional installation of quality luxury vinyl plank flooring for many customers over the last six decades. Our mission is to make the flooring buying process easy. A flooring professional will visit you at your home, around your convenience, and bring luxury vinyl plank flooring samples. You can see the samples in your home, with your rooms' unique lighting and décor. The flooring professional will measure all of the rooms and areas for installation. The professional installation team will move furniture, get rid of old flooring, and replace it with your new, quality luxury vinyl plank flooring.