Before installing hardwood flooring, it's important to complete three essential steps to prepare the room. First, gather the necessary tools and materials. Then, follow these steps carefully to ensure a successful installation of your new hardwood floor.
The key to a successful installation of hardwood flooring is thorough preparation. Neglecting to clean, level, and dry the subfloor before laying the first plank can result in loose or noisy boards, and even worse, a floor that is susceptible to cupping, warping, cracking, or gaps. To ensure that your newly installed hardwood floor will remain a source of pride for years to come, it's important not to overlook or rush through any of the three crucial stages of preparing the space for hardwood flooring.
Do the Demolition Right
Before removing the current flooring, it's important to take off all baseboard and door trim to create space for an expansion gap. This gap is necessary to allow the new flooring to expand properly when exposed to heat and moisture after installation. Fortunately, the demolition process can be efficient and painless with the help of the Trim Puller.
This lightweight manual tool is a versatile addition to any DIYer's toolkit because it can replace multiple single-purpose tools. Its heat-treated carbon steel business end is wider, flatter, and larger than a standard crowbar or pry bar, and it features a 15-degree integrated center wedge with a beveled edge. These features not only prevent damage to walls, but also make it easier to remove trim in one piece for later reinstallation or repurposing.
After removing the baseboard and other molding carefully, you can start using the Trim Puller to remove the existing flooring. This practical tool makes it easy to lift up carpet tack strip and edging, as well as to quickly remove vinyl and ceramic tile. However, it's important to note that if you suspect that the old flooring may contain asbestos (which is likely in homes built or renovated before 1980), it's best to consult with a professional to ensure the safe and proper removal and disposal of the materials.
Shape Up the Subfloor
Preparing the subfloor is essential for any hardwood flooring installation, whether it will be floating, nail-down, or glue-down. The subfloor, whether it's made of concrete, plywood, or plywood over concrete, must be clean, dry, flat, and sound.
• To ensure a clean subfloor, use a sander (and, if necessary, a scraper for concrete floors) to remove any paint, oil, wax, adhesives, sealers, or other materials. For stubborn residue, you may need to use paint strippers or adhesive removers. Once the subfloor is clean, sweep and vacuum it thoroughly.
• Conduct a moisture test using a moisture meter that is calibrated for your subfloor material. Test in areas that are likely to be damp, such as along exterior walls, under windows, and near plumbing, as well as in the center of the floor. Compare your readings to the recommended levels from the hardwood manufacturer and address any issues before installing the flooring.
• Check the levelness of the subfloor using a long level and a tape measure. Make sure that it is within 3/16 inch for every 10 feet. If it is not, use sandpaper to even out high spots, apply leveling compound to fill in low spots, and sweep and vacuum the subfloor again.
• If the subfloor is made of plywood, inspect it for any loose or squeaky boards and repair them as needed.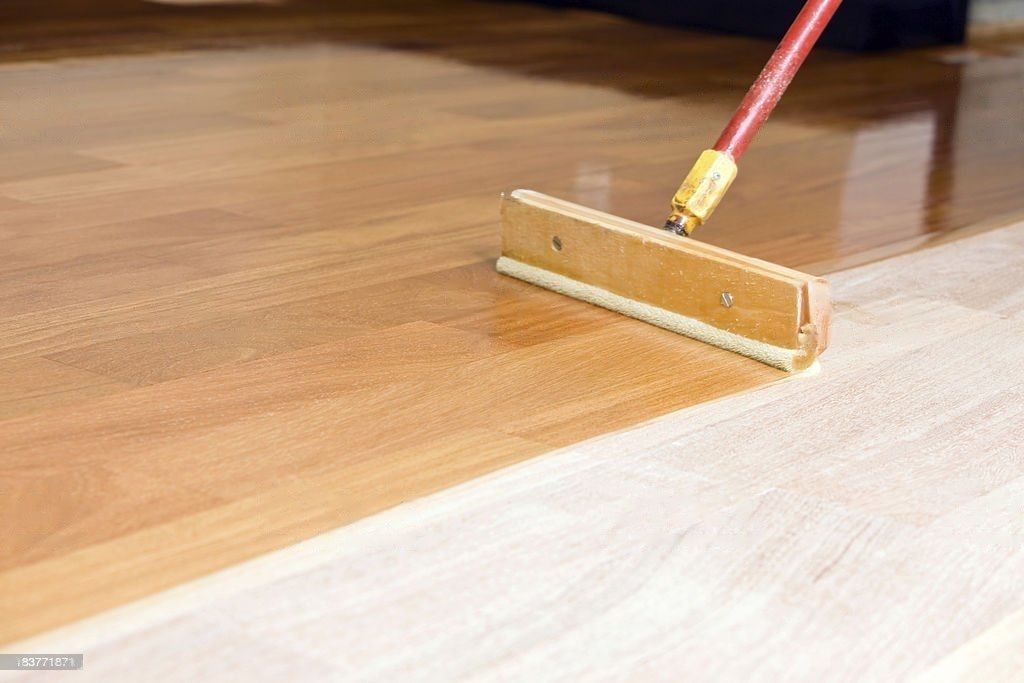 Purchase Essential Extras
To avoid moisture-related problems like mold, rot, or efflorescence, it's important to install a moisture barrier on top of your subfloor. For concrete subfloors, it's recommended to use a trowel-applied product when gluing the wood floor. Additionally, you can install an underlayment of foam, rubber, cork, or a film-and-foam combo to provide cushioning and noise absorption.
Before installation, allow your new hardwood flooring to acclimate to the room's moisture conditions for at least three days. Also, make sure to purchase enough flooring to account for errors, cutting waste, and defects. Flooring manufacturers usually recommend adding an extra 8-15% for installer wastage and 5% for defective material. While DIYing can save money, don't skimp on materials.
Although the Trim Puller is a crucial tool for the project, costing $29.95 (including shipping), it will make the job easier and let you reuse the baseboards and molding you removed. By following these steps, you can complete your home improvement project on time and on budget.