Gain knowledge on plywood floors and transform your floors into stunning DIY creations using this low-cost option to hardwood. In the past, plywood was primarily used for subfloors and sheathing, but now it's becoming popular as an economical option for residential finished flooring. There are two main approaches: either strip away the current flooring, like carpet or vinyl, and resurface the plywood subfloor beneath, or install new plywood pieces that are cut into planks, squares, or unique shapes to create a medallion pattern on top of an existing subfloor.
Regardless of which path you take, with careful attention to detail, patience, and the application of a durable topcoat such as polyurethane to withstand everyday foot traffic, you can create a beautiful, unique floor.
The Fundamentals of Plywood Flooring Here are some essential facts to know about plywood:
While hardwood is solid all the way through, plywood is composed of multiple layers of thin wood veneer, arranged at angles, and then bonded and compressed with heat to form a strong laminated sheet. This layering technique makes plywood more resistant to expansion, giving it an advantage over hardwood. However, plywood's softer surface can chip and dent easily, making the final application of a tough topcoat crucial to the success of your floor.
Plywood floors can be used in any room where hardwood would be installed, but they may not be suitable for kitchens and bathrooms due to frequent water spills. Plywood flooring is not recommended for basements since they tend to be damp, and a concrete floor can transfer moisture from the soil to the plywood, causing it to delaminate and swell over time.
A 1½-inch thick, 4-foot by 8-foot sheet of CDX plywood (commonly used in subflooring) costs around $15. Higher grades of plywood are available, but they are pricier and intended for finishing cabinetry. If you prefer to use high-quality plywood with an oak veneer face, anticipate spending between $50 and $100 or more per sheet, depending on the quality of the veneer facing.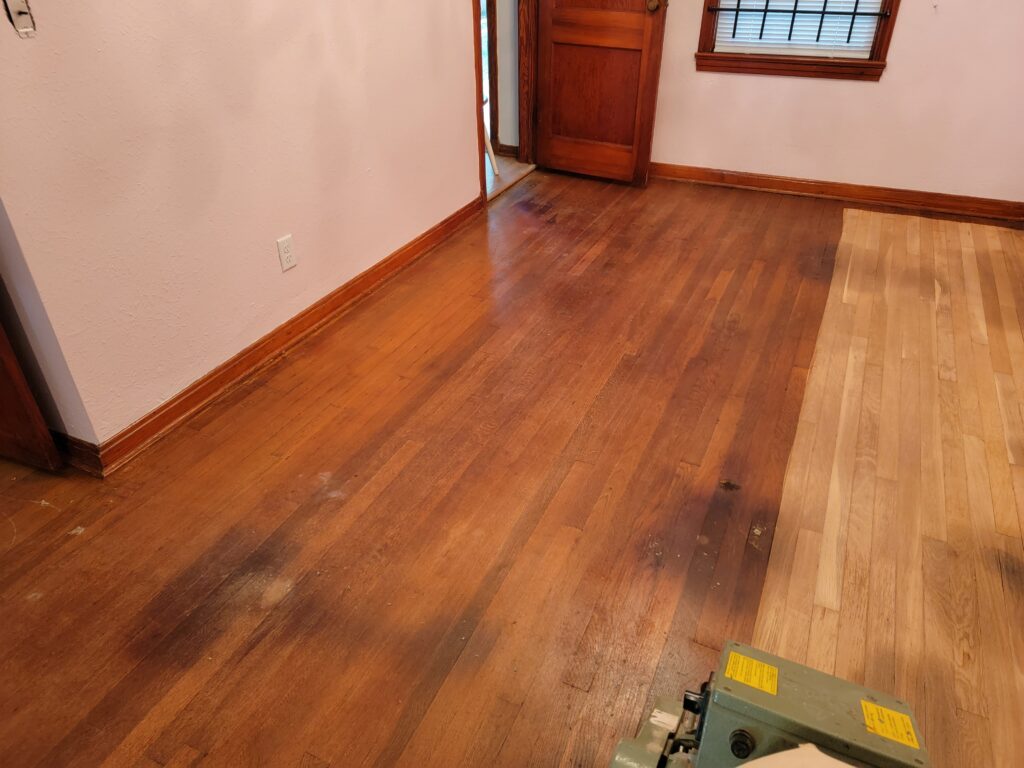 Explore these different methods to achieve stunning plywood floor finishes.
Paper bagging: This technique involves attaching irregularly shaped pieces of brown kraft paper onto an existing plywood surface for a marble-like effect. It can be a fantastic solution after removing old carpet and wondering how to treat the plywood subfloor. First, use a trowel to fill and smooth gaps between plywood panels with fast-setting drywall compound. Next, soak torn pieces of brown kraft paper in a mixture of watered-down glue and apply them to the surface. Once the paper layer has dried, apply a stain and then a protective finish. Refer to our comprehensive guide on how to create a beautiful paper bag floor finish.
Transform your plywood floors with these DIY techniques:
Wallpaper as floor paper: This eye-catching finish involves filling and smoothing gaps in the plywood subfloor using fast-setting drywall compound and a trowel. Next, apply wallpaper in your preferred pattern, and then add three or four coats of polyurethane or other clear hard floor finish. You could cover the entire surface as you would a wall, or cut wallpaper strips to create the look of an area rug, complete with a border around the edges.
Perfectly painted plywood: Create a classic checkerboard pattern, go for stripes or circles, or mimic cobblestones or bricks. The design possibilities are endless, and since your painted plywood floor will be covered with a few coats of polyurethane, you can use almost any type of paint, including artist paints for special details. Properly prepare the plywood floors as discussed earlier, and apply a coat of primer before painting to ensure paint adhesion and seal any loose plywood chips.
Planks, squares, and other shapes: Hardwood planks can be pricey, but you can achieve a natural woodsy appeal by cutting sheets of plywood into planks, squares, or other shapes, and then gluing and/or nailing them to the subfloor. For a 10-foot by 10-foot room, four ½-inch four-by-eight sheets of CDX plywood would cost approximately $65. Add $10 for 1½-inch finish nails, $15 for subfloor glue, $10 for stain, and $15 for a gallon of polyurethane, and your total cost would be about $115. In comparison, the cost of hardwood, tile, or carpet for the same size room could range from $500 to well over $1,000.
Need some tips for installing plywood floors? Here are two important things to remember:
To avoid splintering, cut planks on a table saw with the desired side facing up. If using a circular saw, mark the back of the plywood with chalk lines and cut from the back to reduce the risk of splintering along the edges. Make sure to use good finish-grade blades for both saws.
For a weathered look, treat planks with wood bleach, or stain them to match your furniture or trim. Before staining, apply a sanding sealer to the surface of the planks to help the stain penetrate evenly. Without a sealer, the planks may end up with blotches. Keep in mind that installing plywood floors takes time, so be patient. Once you're finished, you'll have a durable and unique floor to be proud of.