Laminate wood flooring is easy to maintain, & stands up to the busiest of households. Explore our wood laminate options to find the right fit for your home!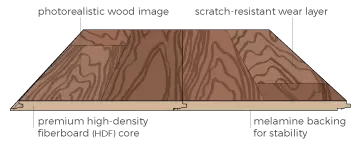 ABOUT WOOD LAMINATE FLOORING
OVER 20,000 Satisfied and Counting Customers
Luis and his team were very professional. They got our job done in a timely manner, arrived on time, we just love our wood floors again. They look like new.
Mr Santos and crew have always been professional, very kind, and always on time. every estimate very affordable and finished work excellent. will remain with BDS Floors for all my home improvement needs. **and check out their awesome flooring store on Atlantic Blvd Jax FL!
Kennadee Stahl
2023-04-27
Great company and great owners!
Erle Penn (Joe Jock)
2023-03-02
I was looking for a floor team that could redo my bathroom floor and while driving over the Buckman bridge I saw a truck with the signage BDS Floors, a family owned business. I quickly copied down the number and when I got home, I called them. I talked with the owner, Luis, and he scheduled a time to meet and upon arrival, he immediately removed his shoes before entering my home. Now this is professional and showed respect for my home. He did the analysis and we discussed they type of flooring material. I was pleasantly surprised that the installation quote was lower than I expected. We scheduled an install date and time and the team showed up and did the install. When finished, they completely removed the old flooring and then cleaned the new floor. I am extremely happy with BDS Floors and have already begun to spread the word. Interestingly, my next-door neighbor was in her driveway as the BDS team was leaving and she asked me what work I had just had performed. Well, I told her that BDS Floors had just replaced my master bathroom floor and that if she needed any type of flooring done, this was the company to call. She immediately took out her phone and photo'd the side of the truck with the BDS Floors logo. Yes, I highly recommend BDS Floors and for any future flooring projects, they will be the team I call.
We were recommended by a relative who had a great job done on their house, as we did also. We had some glued down flooring that was a real bear to remove, I tried, that they made look easy with the right equipment. They were reasonable on price and I intend to use them again very soon to finish the last couple of rooms.
Kyle Sieg Yazbec
2023-02-17
They did a great job with the floors in our historic home and were very quick/efficient and friendly throughout the entire process. The floors look great!
BDS Floors did an amazing job restoring our original hardwood! We wanted them to be brought into the modern era, and Luis had an array of stain options that did just that. We also needed the job done before we had family visit for Thanksgiving and Luis made it happen. Thank you BDS Floors!
Luis does the best work! Our bathroom floor was suffering from a slow, toilet leak. He removed all vinyl plank from before to find there was tile beneath it. He thoroughly cleaned the tile beneath it. He removed the base boards and installed new ones as well. Removed our toilet and set the new one. If we ever need any sort of work done again to another area of our house, we'll only want Luis. Thank you for our beautiful, new vinyl plank! It looks amazing!
Great work from a great crew!
They did an amazing job. They are professional, time effective, great prices, they did great quality job and helped me with other issues in the house. I was looking for someone to install floors in a very short time. Luis was very responsive. I definitely recommend them . They truly deserve five stars
WHY CHOOSE Wood Laminate Flooring?
Laminate flooring is known for its toughness and ability to withstand various forms of damage, including scratches, stains, heavy foot traffic, and even fading. This makes it an ideal choice for households that have a lot of activity.
Maintaining the beauty of laminate wood floors is simple and straightforward. You can easily remove dirt and spills by sweeping, and clean it by using a damp mop or a laminate floor cleaning solution. Unlike traditional wood flooring, laminate wood flooring does not require waxing and is designed to retain its attractive appearance with minimal upkeep.
Laminate wood flooring offers a stylish alternative to traditional hardwood flooring, and can be installed in areas that hardwood typically cannot, such as basements and concrete slabs. Furthermore, some laminate wood options offer complete waterproof protection, making them an excellent choice for moisture-prone areas such as kitchens, bathrooms, and laundry rooms.
100% Waterproof Protection
This laminate flooring is unique compared to others available in the market, as it is equipped with innovative technology that makes it resistant to common forms of moisture, such as splashes, spills, and even condensation from showers. This means you can enjoy the beautiful wood-look flooring in any part of your home, without having to worry about moisture damage. Whether in your kitchen, bathroom, or throughout your entire house, this laminate flooring offers peace of mind and practicality, allowing you to have a gorgeous floor that is also safe from water damage.
EXPLORE OUR WIDE SELECTION of Quality Carpet
WOOD LAMINATE FLOORING Discover the Advantage
What is Laminate Wood Flooring?
Laminate wood flooring is known for its durability and is composed of four distinct layers that are combined under high heat and pressure. The base layer, known as the backing or stabilizing layer, provides stability and strength to the flooring. The core layer is made of premium high-density fiberboard (HDF) and offers support while resisting stress from foot traffic. The third layer is a photorealistic image of high-quality wood, while the top layer, known as the wear layer, protects the flooring from wear and tear and may also have a textured surface to provide a realistic wooden feel.

Laminate Wood Flooring Options for any Style
BDS Floors provides laminate wood flooring options that are perfect for high-traffic areas in your home where both durability and a beautiful hardwood look are desired. These flooring options are easy to clean and maintain, and are highly resistant to fading, stains, spills, and heavy foot traffic. When choosing laminate wood flooring, it's important to work with a flooring professional to select the best option for your home. The professional can assist you in choosing the perfect flooring option that will both look great and last for years to come. Once you've selected the right laminate wood flooring, the flooring professional will schedule the installation at a time that works best for you.

Easy Process, Installation, and High-End Customer Service
For the last 20 years, BDS Floors has been providing expert installation of premium laminate wood flooring to its customers. Our goal is to simplify the process of purchasing laminate wood flooring. A flooring professional will visit you at your home at a time that is convenient for you, and bring laminate flooring samples for you to view in your own space, under your own lighting. The flooring professional will then take precise measurements of all the rooms where the flooring will be installed. The installation team, comprised of professionals, will handle the removal of any old flooring and the placement of your new, high-quality laminate wood flooring, while also moving any furniture as needed.